If you've never stayed somewhere before, you probably have questions about it. Our hotel is no exception because people ask questions about us all the time! We figured it might be easy to answer some of the most asked questions so you can find the answers quickly. So keep reading to learn more about our hotel in Gatlinburg TN!
Are you pet friendly?
While we love all furry creatures, we are not a pet friendly hotel. To get your fix of furry creatures while you're in town, you can head out into the national park to spot the famous Smoky Mountain bears or check out one of the many animal attractions in town.
Do all rooms have a balcony?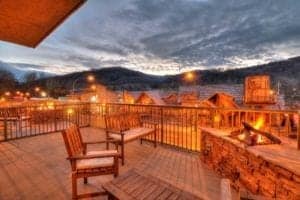 No, not all of our rooms have a private balcony. The Deluxe Double Queen and Accessible rooms don't have balconies. But the Penthouse Suites, Luxury King Suites, Family Suites, and Deluxe King Rooms do have private balconies. Some are on the front of the hotel, providing guests with views of downtown Gatlinburg and the Strip, while the other rooms have balconies that overlook the pool.
Is the pool heated?
The enclosed pool at our hotel in Gatlinburg TN is heated. That means you can enjoy a dip any time of the year! It doesn't matter if it's snowing outside, you can still bring your bathing suit and splash around! We also have a hot tub.
Do you have a common area where you can see downtown?
We do have a common area where any guest can enjoy views of downtown Gatlinburg. We have two communal spaces with fire pits and comfy chairs where you can sit, relax, and make memories with the people you love.
Do you serve breakfast?
We do offer free continental breakfast every day of your stay. There's a designated breakfast nook where you can grab a full meal or some snacks before heading out to the Great Smoky Mountains National Park or fun things to do in downtown Gatlinburg.
Do you have free parking?
Our guests that have reserved one of the rooms at our hotel in Gatlinburg TN do have access to free parking. This is a huge benefit of staying with us because all of the garages and lots in downtown charge for parking.
How far are you from downtown?
We are actually located on the Strip, so we are in the heart of downtown Gatlinburg! Our location makes it easy to walk to any restaurant, attraction, or shop you want to visit!
What time is check in?
Check in is at 4 pm, but if your room is cleaned and ready, we may let you check in early!
We hope that these frequently asked questions covered yours, but if we didn't, please reach out to us. We would be happy to answer any questions you have about us and our hotel in Gatlinburg TN. If you're ready to start planning your next trip, look through our Gatlinburg hotel rooms, and book one for your getaway today!