Planning a trip to the Smokies in the fall is the perfect way to unwind. It's a beautiful time of year to book with us and stay in the Smoky Mountains. Here are 4 reasons why you'll want to stay in our hotel in downtown Gatlinburg TN for your next fall trip:
1. Close to Attractions
Our hotel in downtown Gatlinburg TN is close to all the things you want to see and do. When you're hungry for your next meal, all you have to do is walk to one of the restaurants nearby! Crockett's Breakfast Camp has all the delicious southern breakfast foods you love. For an upscale dinner with your significant other, just go down the street to Cherokee Grill. Not only is our hotel close to great places to eat, it's also close to fun attractions everyone with you will love. You can walk to Aerial Tramway station that will take you to Ober Gatlinburg, where you'll find all kinds of fun activities. Some of the popular fall things to do at Ober include the alpine slide, the rock wall, and Kiddie Land.
2. Near the National Park
The Great Smoky Mountains National Park is basically right next door to our hotel in downtown Gatlinburg TN. You can even walk to the trailhead of the Gatlinburg Trail from our hotel! If you want to visit Cades Cove, the Sinks, or even Clingmans Dome, all of these attractions in the Smokies are a short car ride away. You won't have to spend a ton of time traveling to the mountains because they're practically in our backyard! You will even be able to see the incredible colors of the leaves from our hotel when you stay with us in the fall!
3. Awesome Amenities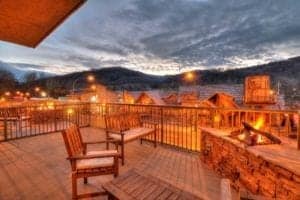 We've talked about a few of our awesome amenities that set our hotel apart from the rest. Instead of spending money on breakfast each morning, take advantage of our free complimentary breakfast. During chilly spells, you can swim in the enclosed heated pool. Whenever you need a pick me up, there is 24-hour coffee service in the lobby. Want to enjoy the beautiful reds, oranges, and yellows of the changing leaves? Sit on our patio with a fireplace to keep you warm. Our amenities are unlike any other and will make you want to come back again and again.
4. Offer Specials and Discounts
One of the best parts of staying at our hotel in downtown Gatlinburg TN is our offerings of specials and discounts. We know how important saving money is to you, which is why we provide deals for our guests. All you have to do is call us and see what specials we have going on, and when you book with us, we make sure you're getting the best deal! Our offerings change throughout the year, so you'll never know what you'll get unless you call us!
We hope our close proximity to attractions, restaurants, and the national park will make your decision of where to stay even easier for your fall trip. Browse through our rooms now and book your stay at our hotel in downtown Gatlinburg TN!